If you want your brand to reflect the professionalism and style of your business, attract more money, and the process to be completely hassle-free, you've come to the right place!
As web-based technology and e-Business solutions are often the central focus of marketing activity, many of our clients take advantage of CleverLINK's broader marketing expertise.
From the creation of a marketing plan to a multi-media strategy, we ensure all initiatives work together. This means you get true economical and competitive advantages.
Our marketing communications strategist with over 30 years experience is available to advise you, leading a team of creative directors, designers, copywriters and other professionals to implement your campaigns.
Our qualified business consultant with a Master of Commerce, Diploma of Marketing and Bachelor of Computer Science ensures your marketing follows sound principles for lead generation and sales growth.
CleverLINK also has a proven track record in achieving media coverage through professional publicity and public relations campaigns.
We always consider your total marketing and business needs when advising on your technology and online activity.
Using our formally-trained and experienced advisors, CleverLINK will help you to plan and implement all aspects of marketing 'beyond your website'.
Branding and Corporate Identity
CleverLINK knows that branding goes way beyond the individual physical elements and comprises the sum of all messages that convey the personality of your organisation.
Branding and graphic design has always been a key part of the CleverLINK service, with hundreds of logos and corporate identity packages developed for organisations in many different industries.
Your logo and corporate identity is the face of your business, and depicts its personality to the world. It needs not only to be appealing, but to meet your business objectives and project your business's image and values.
Our talented graphic design team will produce dazzling logos and brand identities, directed by our marketing specialists.
Below are some samples of logos we at CleverLINK have designed in the past. To view more, please visit our logo portfolio page.

Brochure Production & Printing
CleverLINK handles all stages of graphic design and print production for all types and sizes. We're able to achieve economies for you through our frequent purchases and our supplier network.
CleverLINK offers the advantage of integrating your online marketing with other forms of communication to provide consistency, along with the greater impact of everything working together.
From initial design development to marketing input and copywriting, photography and other elements, we can offer special rates with printing and other production inputs.
Here are some samples of brochures we've designed for clients in the past. If you'd like to see more samples please visit our brochures portoflio page.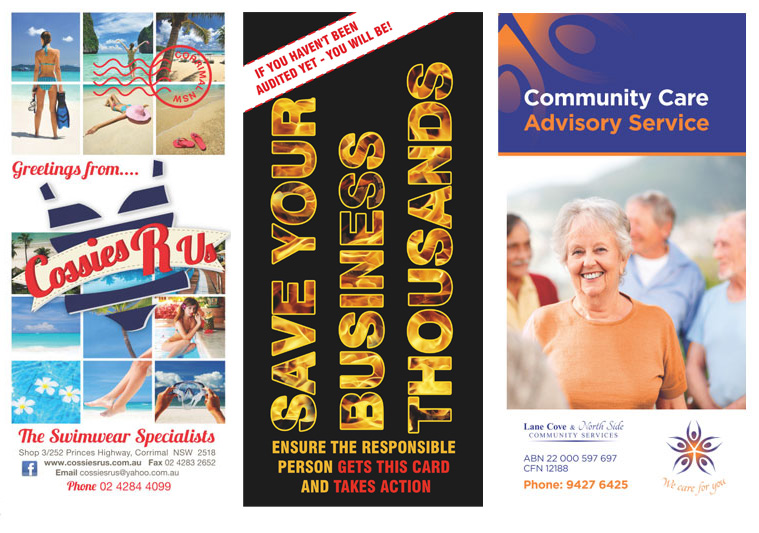 Signs & Banners
In addition to supervising and executing identity materials such as logos, business cards and other stationery, CleverLINK can design and implement signage whether it is for buildings, cars and other permanent applications or display materials and banners for temporary or portable use.
Again, our supplier network can mean significant economies and there are advantages in ensuring consistency of design, colour and finish.
Below are some samples of banners we've created for clients. To view more, please visit our banner portfolio page.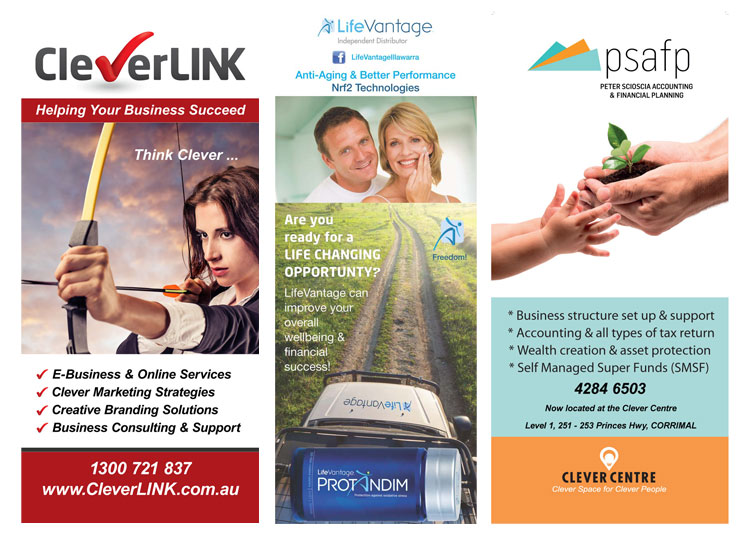 Whatever your marketing or branding requirements, CleverLINK can provide it. Ask us for an obligation-free quote today!
Call us now on 1300 721 837 or contact us at service@cleverlink.com.au.